Meeting Dates & Times
---
Regular Meetings First Wednesday of every month at 7 p.m. Municipal Building
Workshop Meetings Last Wednesday of every month at 6 p.m. Municipal Building
Citizen Spotlight Program Nomination Form
Voting Districts
---
View Allegheny County voting districts here.
Road Improvements for 2016
---
Current Traffic Alerts
Updated 6/23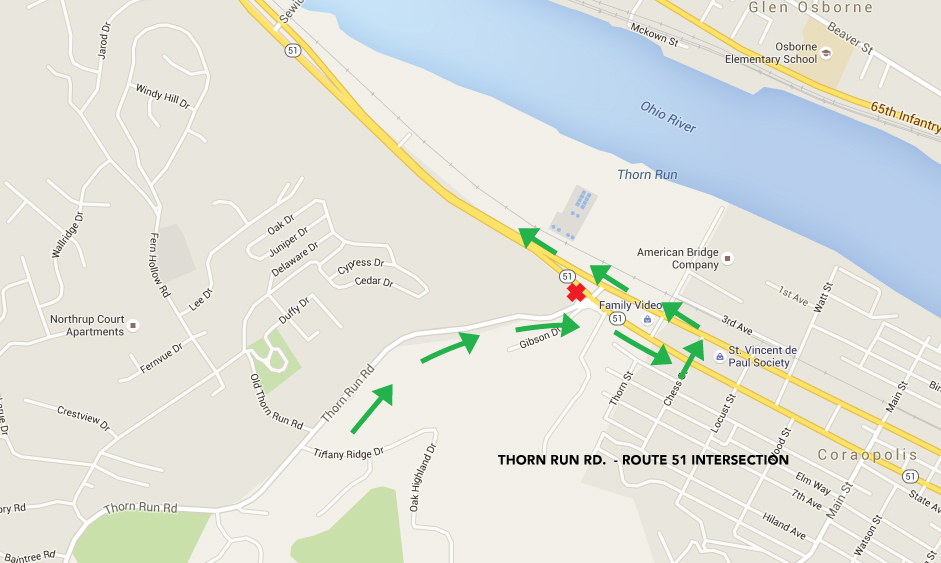 8-29-16 through 10-2-16 Continue new mountable curb on university Blvd. at the BP and Walgreens locations lane restrictions 9:00 am to 3 pm will apply both North and South bound to allow for activity
Continue crosswalk installation and new Ped. pole at triangular island at the east side of university and beaver grade rd. right turn restrictions may apply 9:00 am to 3:00 pm 9-6-16 through 9-10-16 anticipated.
Begin milling / paving and restripe on University Blvd, Brodhead Road, and Beaver grade Road 6:00 pm to 6:00am daily.

The milling and repaving will be performed at night help lower the traffic impact but in any case traffic will be slow, Milling will be start to finish anticipated 2 night activity and then paving anticipated 2 night activity. Flaggers will be utilized along with the Moon Twp. police department for traffic control. There also may 15 minute traffic stoppages in any direction as required to make the intersection crossing. Also transition bumps will be present from old to new, bump signage will be used. Motorists should be alerted to use an alternate route if possible for the duration of the activity to avoid driver frustration. While the milling can occur in rain conditions the paving could be delayed in medium to heavy rain conditions at the discretion of the Dot inspector so the paving duration may be affected, but hopefully not. One last thing as power is transferred at the existing signals they will be started up and old signals removed, and as power comes available to the new signals they put in flash mode.
I-376 between the airport interchange and Beaver County line:
There are lane restrictions and changing traffic patterns on I-376 between the airport interchange and Beaver County line. At the Flaugherty Run Interchange traffic will be reduced to a single-lane on the ramp from westbound Business Loop 376 to westbound I-376. The long-term, around-the-clock restriction will remain in place through November 2016.
Economy Grade Road Bridge
The Economy Grade Road bridge from Spring Run Road Extension over I-376 is closed for replacement through November 2016.
Montour Run Bridges:
Allegheny County will be repairing three bridges over the Montour Run mostly in Findlay Township.
Moon Park
parking area near entrance to park.
Becks Run Road
downhill from Autumn Woods Drive to Flaugherty Run Road.
PennDOT
work at SR 51 and Thorn Run Road intersection continues with lane restrictions.
Resurrection Road/McClaren Road detour
Resurrection Road is open to the cemetery. Please follow detour signs.
Walmart area construction:
Continued work both sides University Blvd right lane restrictions 9 to 3 daily due to road widening
Continued work on Brodhead Road with right lane restrictions and additional restrictions indicated by flaggers due to road widening
Continued Carnot Road construction with no thru traffic. Due to a gas leak discovered on Carnot Road, the gas company has elected to replace the entire line. They are going as fast as they can, but until they are complete, construction cannot proceed. The road will remain closed to thru traffic over the weekend.
The following are improvements planned for Moon Township roads in 2016.
Boggs Avenue
From: Brodhead Road - To:Cul-de-sac
Firth Drive
From: Glengary DR - To:Cul-de-sac
Scottsdale Drive
From: Spring Run RD Ext - To:Glenmore DR
Macnab Drive
From: Glenmore DR - To:Cul-de-sac
Glenmore Drive
From: Scottsdale DR - To:McNab Drive
Darnley Drive
From: Scottsdale DR - To:McNab Drive
Farm View Drive
From: Broad Hill Farms Road - To:Cul-de-sac
Cottonwood Court
From: Amherst AV - To:Cul-de-sac
Becks Run Road
From: Autumn Woods Drive - To:Flaugherty Run Road
Hirshinger Road
From: Market Place Blvd - To:Hookstown Grade Road
Moon Park Parking Lot